Achillea millefolium, commonly known as yarrow, is a flowering herb in the Asteraceae family. It is native to North America, Asia, and Europe. Its blooms feature tiny disk flowers surrounded by 3-8 pink ray flowers, arranged in a flat-topped inflorescence. Traditionally, yarrow was used by various civilizations to treat wounds, fight infections and cure colds. Ancient records show that the herb was in use from as early as 60,000 BCE in Iraq. Yarrow medicinal purposes include:
[Note: The Right Flowers is not a medical site. Knowledge of and information about the therapeutic benefits and applications of flowers, while known through the ages, does not constitute medical advice. If you are having health issues, you should consult with a physician.]
Wound treatment
Yarrow has been used to treat wounds for centuries. It contains a compound known as achilleine which is great for stopping bleeding by encouraging blood clotting. In addition, it dulls pain.
Achilles, the ancient general used it for field dressing when his soldiers got wounded in the Trojan War which explains why the plant is named after him. It is unfortunate that yarrow did not come to his rescue when he was fatally wounded in the heel.
Apart from being a coagulant, yarrow is a natural antiseptic. It protects wounds from getting infected which explain why most healing ointments contain yarrow in their ingredients.
The Right Flowers in Your Inbox!
Sign up for our free notifications of new articles!
We never share your email address
Research has established that yarrow is especially good in treating napalm burns. These are serious war wounds inflicted by burning compounds including gasoline and palmitic acid. Ever wondered how the herb became referred to as the military herb? It is due to yarrow's common use in stanching the flow of blood from war wounds.
Treatment for mastitis
Yarrow is known to help in managing and treating mastitis. Mastitis is a breast infection that commonly occurs in lactating women. Breastfeeding women suffering from mastitis can find relief by alternating between warm and cold compresses using yarrow's extracts. Cold compresses assist in relieving pain while warm compresses enhance blood circulation. Since it contains antibacterial and anti-inflammatory properties, yarrow is beneficial not only for managing but also for treating the condition.
Sedative for anxiety
A study published in the Journal of Ethnopharmacology examined the anxiety-calming effects of yarrow in animals where researchers used hydroalcoholic extracts from aerial parts of yarrow on animal subjects in open-field tests. They discovered that yarrow had strong short-term and long-term anti-anxiety effects.
In addition, researchers realized that yarrow had similar effects to valium, commonly known as diazepam, a pharmaceutical product prescribed for anxiety.
Digestive health
Yarrow is considered a bitter herb, which makes it an excellent stimulant for the digestive system. It achieves this by inducing bile secretions from the gallbladder. In addition, it contains compounds that protect against gallstones and also relaxes stomach muscles.
Ultimately, yarrow medicinal purposes have never been undermined even in the face of famous pharmaceutical products. The herb is still renowned for its potent medicinal properties and it always stands tall among its herbal peers.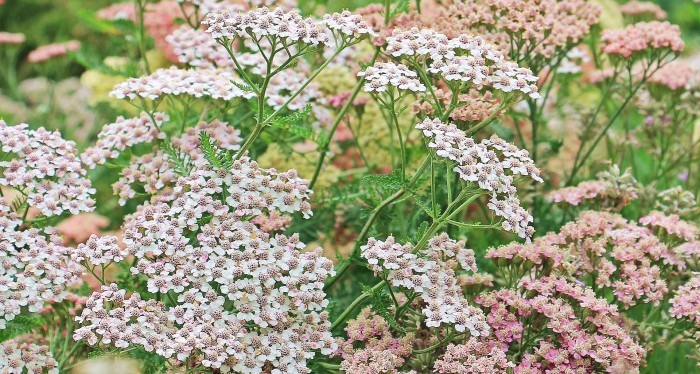 Summary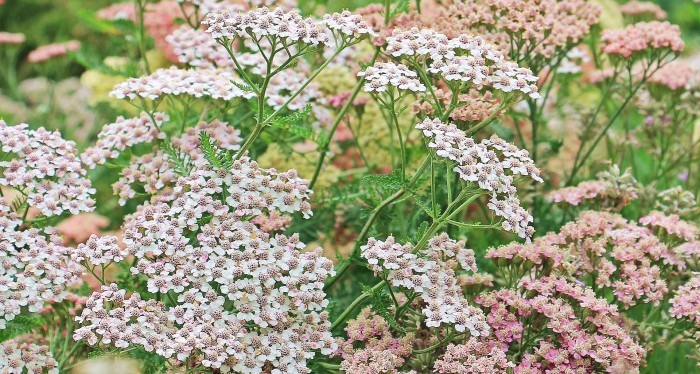 Article Name
Yarrow medicinal purposes
Description
Achillea millefolium, commonly known as yarrow, is a flowering herb in the Asteraceae family. It is native to North America, Asia, and Europe. Its blooms feature tiny disk flowers surrounded by 3-8 pink ray flowers, arranged in a flat-topped inflorescence. Traditionally, yarrow was used by various civilizations to treat wounds, fight infections and cure colds. Ancient records show that the herb was in use from as early as 60,000 BCE in Iraq. Yarrow medicinal purposes include:
Author